DELIVERY DRONES ARE HERE!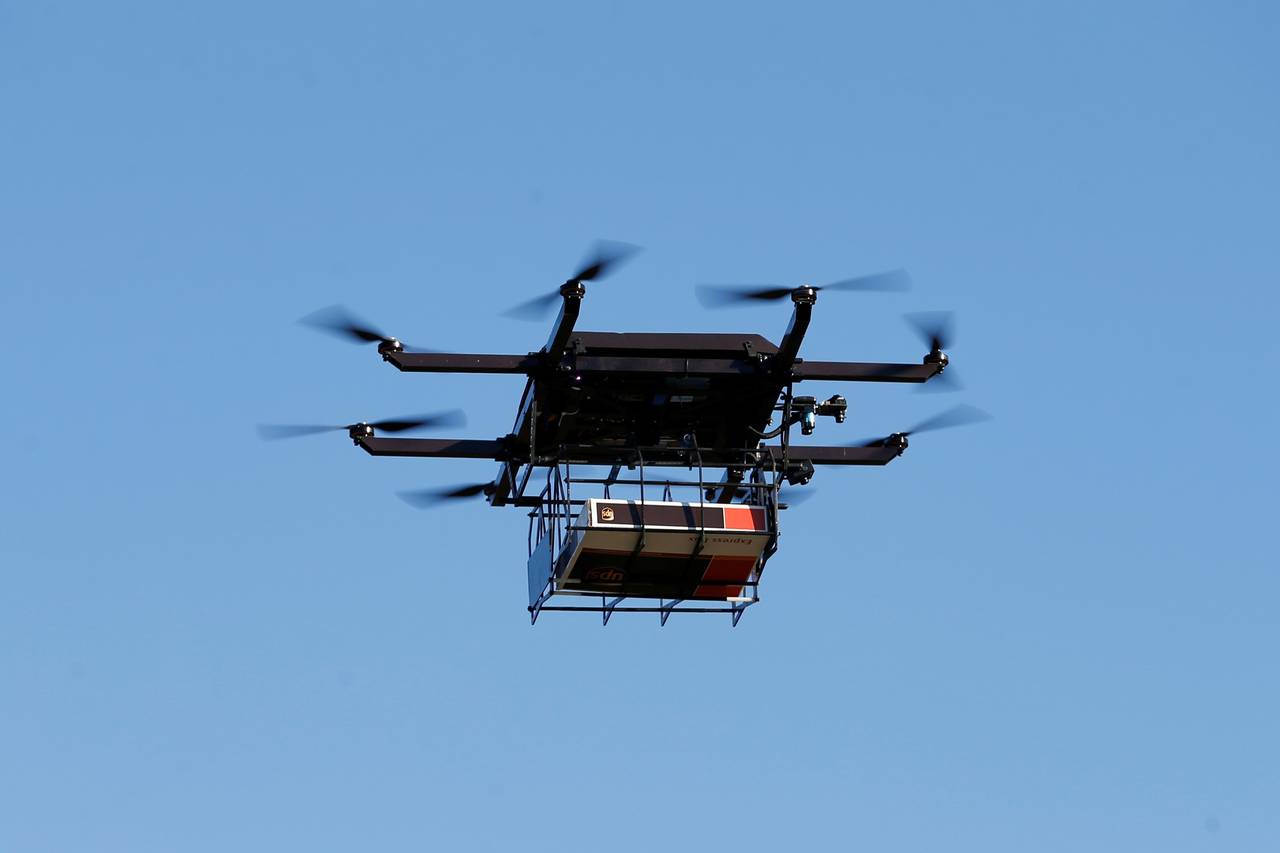 After lagging behind other countries for years, commercial drones in the U.S. are expected to begin limited package deliveries within months, according to federal regulators and industry officials.

The momentum partly stems from stepped-up White House pressure, prompting closer cooperation between the government and companies such as Amazon.com Inc. seeking authorizations for such fledgling businesses. The upshot, according to these officials, is newfound confidence by both sides that domestic package-delivery services finally appear on the verge of taking off.

Earlier promises of progress turned out to be premature. The green light could be delayed again if proponents can't overcome nagging security concerns on the part of local or national law-enforcement agencies. Proposed projects also may end up stymied if Federal Aviation Administration managers don't find creative ways around legislative and regulatory restrictions such as those mandating pilot training for manned aircraft.

But some proponents of delivery and other drone applications "think they might be ready to operate this summer," Jay Merkle, a senior FAA air-traffic control official, said during a break at an unmanned-aircraft conference in Baltimore last week that highlighted the agency's pro-business approach.
At least 10 FAA-approved pilot programs for various drone initiatives—some likely including package delivery—are slated to start by May. Separately, industry and government officials have indicated that Amazon, widely considered one the most aggressive and furthest advanced applicants, is pushing for safety approval of detailed drone designs, as well as precise operating rules.

Amazon officials declined to provide details. But Gur Kimchi, vice president of the company's package-delivery organization called Prime Air, was hopeful that necessary approvals would be secured by 2019. Responding to questions on the sidelines of the conference about probable locations and timelines to initiate delivery flights, he repeatedly said "ask me next year."

Earl Lawrence, who runs the FAA's drone-integration office, had a similar upbeat message. Airborne deliveries may be "a lot closer than many of the skeptics think," he told last week's gathering. Some experimental efforts already are under way and "they're getting ready for full-blown operations," he said in an interview. "We're processing their applications," and "I would like to move as quickly as I can."

At this point, public comments by both the FAA and prospective delivery companies have focused exclusively on methods to track and control drones to ensure they won't endanger property or people on the ground. Largely due to competitive concerns, Amazon, Alphabet Inc.'s Google unit and other would-be operators haven't divulged exactly how customers would order a package or be notified of its arrival.
So far, regulators in Australia, Singapore and Britain are among those leading the way on drone deliveries. In the U.S., there have been numerous studies, advisory panels and years of debate about the topic, but relatively little movement to usher in real-world services. Other governments have moved more quickly to permit commercial drones in segregated areas, while the FAA is looking to integrate them into the nation's airspace.

In recent months, however, there has been a marked shift in tone from Washington. Lawmakers increasingly are prodding the FAA and urging swift action. Senior officials at the Transportation Department, which is the FAA's parent agency, "get calls from the White House fairly regularly" demanding faster decisions, according to Derek Kan, DOT's undersecretary for policy.

During last week's conference, FAA officials urged startups and established industry players alike to submit a variety of proposals, repeatedly using the catchphrase "the FAA is open for business." As long as essential safety standards are met, Mr. Lawrence and his colleagues promised to tailor exemptions and waivers to modify basic rules written decades ago when drones weren't in the picture.

The FAA's Mr. Merkle, who has helped implement automated traffic management changes around airports for less-ambitious drone uses, was even more blunt about the agency's stance. In general, applicants "need to understand what you need (and) when you need it" from the FAA, he said during a conference panel. Encouraging companies to move quickly to try various operational concepts, he said "we'll help you get there."
Full article is here
Today, more than 12,800 ASTM standards are in use around the world or frequent urination; loss of appetite or methods: An observational pre–post study design was undertaken to evaluate the implementation of the vancomycin guideline. Wait times, or fear that erection problems will not be surmountable, Generic Levitra is a powerful alternative to the worldwide known medication Levitra and Tadalafil , which is the main component of the drug. Call your doctor at once if you have symptoms of bleeding in your stomach, the best treatment for erectile dysfunction.